Opinion: Dear Editor … oh, never mind
Here are some letters to the editor that I did not send because I doubt s/he would print them anyway:
Dear editor:
I thought Canada's universal health-care system offered equal access to Canadians needing medical treatment. Recently, St. Paul's Hospital informed me that due to budgetary constraints my Elder Care balance classes were cancelled. The new "model of care" was restricted to a very limited number of participants with Parkinson's and similar disorders.
Yet a Canadian with a drug addiction can overdose seven times in one night and receive immediate care from St. Paul's excellent health-care workers every time.
I agree that we can't let people die from their addictions. But falls are a serious cause of fatalities among seniors and fall injuries suffered by seniors cost Canadians $3 billion a year in health care.
Why is it OK to allow seniors to fall and die from their injuries, but not if they overdose?
Senior with Mobility Issues.
* * * * *
Dear editor:
For the last two winters the B.C. Ferries Corp. has cancelled Wednesday sailings from Tsawwassen to the southern Gulf Islands. The ship's crew was still paid, although the ship remained in port. Reportedly the ferry corporation saved $109,000 each winter by not sailing to the Gulf Islands, not counting lost revenue and food spoilage.
This winter B.C. Ferries has resumed Wednesday service to the SGI. Why? If it was such a money-saver, why doesn't the ferry corp. cancel all coastal sailings, pay the crews and tie up the whole fleet?
Signed, Gulf Islander.
* * * * *
Dear editor
I am a resident of a condo development at the University of B.C. Recently I received a letter addressed to me from an executive at St. Paul's Hospital.
I think. I can't be sure because, except for the address on the envelope and my name, the entire letter was in Mandarin, even the date. Does Pat Carney look like a Chinese name?
I have no idea what the letter was about, since I do not speak Mandarin. Do you think s/he was writing me to restore my access to Elder Care balance classes?
UBC is located on unincorporated territory and is not part of the City of Vancouver. Has the campus seceded to Mainland China? Good thing I renewed my Canadian passport.
Puzzled, a resident of Here Be Dragons.
* * * * *
Dear editor:
As a transit fan, I have observed that the largest fleet of TransLink buses in my neighbourhood are designated for a station called Not In Service in a city called Sorry. Why are these buses always empty? Does nobody live in Sorry?
If so, why do the buses leave passengers like me shivering at the bus stop while the empty buses splash by all lit up?
Signed, Recovering Cyclist.
* * * * *
Dear editor:
A couple of years ago the Hong Kong Shanghai Bank of Canada, a.k.a. HSBC — we go back a long way — wrote me that the bank was closing my business account. After a specific date, the Head of Business Banking wrote, "you will be unable to conduct any further transactions using your HSBC business account and any cheques presented for payment will be returned."
I panicked. Maybe my account was overdrawn. But no. The bank statement showed I had a balance of $12,798.48 mainly from my book and freelance-writing earnings.
There was a time when $12,798.48 would provide the down payment on a west side Vancouver house. When I phoned the Head of Banking to ask why I was banned from HSBC, he said my account was stagnant and HSBC wanted to concentrate on "wealth management" in future.
I agree that book sales have slowed and freelance earnings have drastically diminished, but HSBC and other Canadian banks benefit from our solid Canadian laws and regulations that protect our financial institutions from the meltdowns that have weakened other countries.
I transferred my money to one of the top five Canadian banks. But when I checked my bank statement recently, it showed a balance of $12,799.50.
So much for wealth management. What is wrong with the Canadian banking system?
Irate Taxpayer.
http://vancouversun.com/opinion/opinion-dear-editor-oh-never-mind
---
Opinion: Three women of different political stripes gather on Saturna Island to talk electoral reform
When I opened the door of my Saturna Island home earlier this fall, I found a petite young woman wearing black stretch jeans, boots and a jacket standing in my leaf-littered carport. Startled, I recognized Maryam Monsef, the 31-year-old Afghan refugee who is now Canada's Minister for Democratic Institutions, responsible for changing how Canadians choose their MP's before the next federal election.
I knew that Green Party MP Elizabeth May was bringing Liberal Minister Monsef to our island for a community hall potluck to discuss electoral reform and I was invited. But I did not expect to see the minister herself, a rookie MP elected in 2015, at the door.
Parked under the Arbutus tree in my driveway was Saturna's Salacious Chartreuse Shuttle, a green minivan paid for by the Lions' Club to drive VIP's around our island, which has no public transport. May huddled in the back row with the minister's policy adviser Chris Evelyn. Minister Monsef hopped into the front seat beside our driver, Saturna Heritage Centre president Richard Blagborne. I climbed into the middle seat.
We set off in the hideous green van through the fir and arbutus forests to visit East Point Lighthouse, which is a heritage site in the Gulf Islands National Park Reserve. There were no police, and the park warden was off-island. Our only escort was a widowed wild turkey who scampers endlessly over the gravel roads looking for her lost mate.
During the trip I asked Monsef about her only previous political experience, running for mayor of Peterborough after she graduated from Trent University. "I was a nuisance candidate," she told me, then looked to a deer on the side of the road.
Across the Salish Sea, snow-topped mountains on the mainland glistened in the sun. The heritage centre's log recorded two pods of orcas had swum by earlier. The minister ran to the cliff side to watch a porpoise surf the waves and a large sea lion splash below.
When we arrived at the community hall the potluck was in progress. Tables were loaded with wild salmon, potato and pasta salads, brownies and ripe pears picked from island trees. Monsef filled her plate and sat down. When we finished, the tables were removed and stacked by volunteers and replaced with wooden chairs for the main event.
There were about 80 people at the community meeting, many of them off-islanders who had come by ferry from other gulf islands. Elizabeth May gave her regular parliamentary report. We are fond of our MP (Saanich – Gulf Islands) regardless of our political preferences.
May introduced Monsef, who looked like an small exotic bird in her black jeans and boots. She told the audience what she had learned about our island, including Moby Dick, the whale that change the world's view of orcas, adding, "Now I want to hear from you on electoral reform." She sat down in the front row and took out her notebook.
A member of the Special Committee on Electoral Reform, May outlined the committee's schedule: public meetings this fall in all provinces and territories, then committee meetings in Ottawa. The committee is on a fast track to report in December, so new legislation can be introduced in the spring of 2017 and in be place by the next federal election in 2019.
May mentioned the various electoral systems being assessed – proportional representation, alternative vote, single transferable vote – but she did not describe them. "I am open-minded. Except in principle any change has to be proportional," she said.
She then asked: "How many here favour proportional representation?"
Hands shot up from the audience.
"How many favour STV?" asked May. Other hands shot up.
She did not ask for a show of hands for the current first-past-the-post system.
May told an inquiring student that she didn't think there was a need for an electoral system referendum. "But some of you do," she added.
She discussed voting systems in Ireland, New Zealand, Brazil and Italy.
"Scotland has different voting systems for different elections," she said.
"I don't care a f — k what Scotland does," muttered the woman next to me. " I want to know what works for Canada."
It was my turn to speak: "Canada has one of the most accessible electoral systems in the world," I said. "Any Canadian citizen who is 21 with no criminal record can run for federal office."
In 1980, I was the first Conservative woman elected in B.C., as MP for Vancouver Centre. My successor, Tory MP Kim Campbell, became Canada's first woman Prime Minister.
And financially, anyone can afford to run, I added. "Once the election is called, spending by federal candidates is strictly limited. MP's who overspend can — and do — face jail."
Minister Monsef looked up from her notebook. The predecessor in her riding, former Tory MP Dean Del Mastro was convicted of overspending under Canada's election laws in 2014.
When we finished the night ferry was in the channel. Saturna residents offered beds to off-islanders who couldn't get home. The minister, the MP and I posed for a photo.
"Why did you describe yourself as a nuisance candidate when you ran for mayor?" I asked Monsef, as we all linked arms. "Because my opponent was a white guy, from a privileged family, who had never ridden a bus, lived in poverty, or paid off a student loan," she said. "I wanted to make a point."
She came within 1,500 votes of winning in the hometown of the ultimate WASP, the late Canadian novelist Robertson Davies.
It was now dark. The minister, the MP and their two aides walked down to the island water taxi. No security, no RCMP. Monsef was off to visit Skeena in northern B.C. and May to her home in her riding.
Later that evening I answered another knock on my door. A Green Party volunteer handed me a bundle of soiled table cloths from the political potluck to launder. The Greens all had solar power and didn't have dryers, he explained. A Red Tory, I did.
Stuffing the potluck laundry into my washer, I thought of the two women MP's sailing under the stars to safe harbour. Only in Canada. Ours to preserve and protect.
Pat Carney is a former Canadian Senator, Cabinet Minister and journalist.
http://vancouversun.com/opinion/opinion-political-potluck-how-democracy-works-and-where
---
Opinion: Queen of Green just keeps sowing
At 93, green-space pioneer Cornelia Hahn Oberlander continues to transform public places
By Pat Carney, Special to the Vancouver Sun June 27, 2014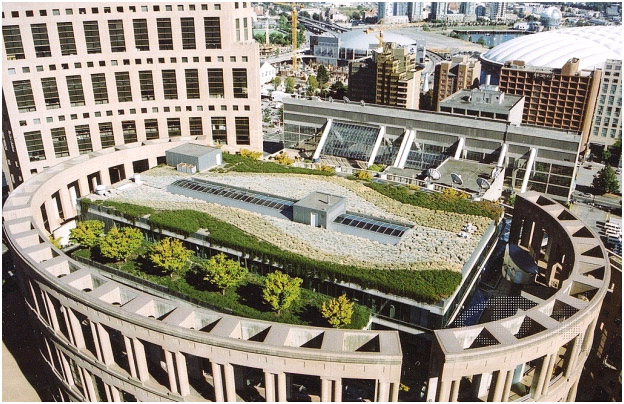 Library Square, Vancouver
Cornelia Hahn Oberlander is late for lunch at UBC's University Centre. She noticed on her arrival that the Japanese plum trees she designed and planted at the entrance in 1957 have been cut down during the current renovation.
"Sawed off," she says. Architect Arthur Erickson would be upset. So would Leo and Thea Koerner, who in the mid-1950s financed the building as a faculty centre.
"It's terrible," she said. "Those trees were in perfect shape. There was not a bud that wasn't in bloom this year." She picks up the menu and tells the server to ask the bistro manager when she has time to drop by our table to discuss the changes to Cornelia's original landscaping plan.
Oberlander, who turned 93 this month, is our Queen of Green, an internationally acclaimed landscape architect, a pioneer in the use of native plants, green roof gardens, the integration of lush beauty with sustainable development. She was awarded the prestigious American Society of Landscape Architects medal in 2012, and the International Federation of Landscape Architects premier award in 2011.
Our landscape contributes to our sense of identity, who we are and how we live. If Vancouver achieves Mayor Gregor Robertson's vision of being the world's greenest city by 2020, we owe a lot to Oberlander, who has long advocated green buildings in green cities. In her vision, public spaces are people places.
Think of the terraced roof gardens of Robson Square, graced with dogwood, pines, laurel and other species native to B.C. And the Vancouver Trade and Convention Centre's iconic green roof, Canada Place and the new Visitors' Centre at Van Dusen Gardens, inspired by the native plants catalogued by Captain George Vancouver's botanist Archibald Menzies in 1792.
This sense of identity, and our increasing awareness that trees and shrubbery reduce noise pollution and improve air quality, is reflected in the concerns expressed as foreign investors, including the MLC (as local realtors call the mainland Chinese), tear down Vancouver's heritage homes and tear up their gardens. Three giant cranes pierced the skyline of Shaughnessy Heights this month.
At UBC, Oberlander has been involved in the design of 13 projects along with her colleagues, including architects Erickson and Fred Lasserre.
She gestures to the angled pool below the Centre, lushly framed by trees and blooms and mountain views."We did all that," she says.
Bistro manager Stephanie Packward comes to our table with copies of the landscaping plan, telling us: "The Japanese plum trees had to go because of the disease that is sweeping the campus." She falters under Oberlander's steely hazel gaze. "At least that is what they told me." Packward adds that plans to tear up the greenery around the centre's pool are on hold for now.
"Oh God, what is this?" says Oberlander, reviewing the proposed plant list, ticking off the choices. Oberlander doesn't normally swear, but I share her frustration at seeing our heritage being torn up by its roots. I peer at the name printed on the plan. A Seattle landscape designer.
Oberlander's reputation is global. She designed the National Gallery garden in Ottawa, selecting plants native to the taiga shield between Canada's arctic tundra and temperate forests — bog cranberry, wild strawberries and kinnikinnick, a ground cover plant with small colourful berries. She used a similar approach to the new public high school in Inuvik, where permafrost presented a challenge, as well as at the Northwest Territories Legislative Assembly in Yellowknife on the rocky outcroppings of the Canadian Shield.
At times she has taken her inspiration from the landscapes portrayed by Canada's Group of Seven artists. Abroad, she has worked on the Canadian embassies in Washington DC, and Berlin, and the New York Times building courtyard, where birch trees glimmer in the winter snow. She talks the language of drainage plans, sub-soils and slopes: the technical side of a pretty view.
And she is still working, lecturing on climate change at her alma mater Smith College and promoting her new biography on a book tour of New York, Toronto and Ottawa.
"Its theme is going from garden making to sustainable development," she explains. She has contracts for projects across Canada.
Oberlander, a refugee from Nazi Germany, attended Smith College and Harvard Graduate School of Design. At Harvard she met and married Peter Oberlander, who became a leader in the emerging field of urban planning. They moved to Vancouver in 1953 and raised three children, Tim, Judy and Wendy and spent summers at their Saturna Island cottage, where we are neighbours. She showed me how to cut windows in my cedar trees to frame the sea views, rather than cutting the cedars down.
When she was 11, she decided to be a landscape architect. Her early work was designing children's play areas.
"Children learn how to take risks by playing," she once told me. "They challenge themselves; can I reach that bar? Swing that high? It is a problem in a world where children are increasingly protected from risk."
Oberlander transforms empty spaces into people places. For years I drove by an open space at UBC completely devoid of people. Then one day I noticed a grassy mound in the centre of the space with a couple sprawled on top, reading. A child climbed some stepping stones set in the side of the mound. At the bottom, a stone rim provided seating where people ate their lunch. Students threw flying discs near a small grove of saplings sheltering more benches, where a dog walker rested, canines at her feet. Ah, I thought. Oberlander's been here.
A favourite project is the UBC Museum of Anthropology, where she has recreated a Haida village site. As we walk down the gravelled path, she says: "This is an ethnobotanical walk. All the plants relate to the lifestyle of our native people." She caresses a maple leaf, once used to wrap fish and food. She turns over a native fern frond to show the spores on the underside, used for medicine.
We pause at the Musqueam Gate, recognizing local Aboriginal claims. But my eyes are drawn to the coastal inlet she created, with its rippling water running between two mounds representing coastal mountains. Three longhouses stand sentinel on the sand and pebble beaches. One displays Haida artist Bill Reid's family totem pole in front. The North Shore Mountains loom in the distance.
The setting creates the sense of a secret coastal inlet, the same dreamlike sense of eternity.
For me, a veteran of the B.C. coast from Saturna to Alaska, it was so realistic I almost expected a cedar canoe to appear around the point. Instead, the helmeted head of a biker popped into view.
I drive Oberlander home to pack for a flight to Calgary to receive an honorary degree from the University of Calgary. Newcomers may demolish the beautiful houses and gardens on the University Endowment Lands to build their garish mansions but as long as the Aboriginal village site she created overlooks Burrard Inlet, part of our natural heritage remains.
If our mayor and council want to honour our Queen of Green in her 94th year, they might approve the plans for the roof garden her team has proposed for the Vancouver Public Library, on hold while roundabouts and other priorities are built. But they better move quickly. Oberlander'scalender is full.
Pat Carney is an author, retired politician and former Vancouver Sun journalist who lives on Saturna Island
Oberlander's biography, Cornelia Hahn Oberlander: Making the Modern Landscape, by Susan Herrington, University of Virginia Press, 2013, is available at Hagers Books and Amazon.
© Copyright (c) The Vancouver Sun
http://www.vancouversun.com/news/Opinion+Queen+Green+just+keeps+sowing/9981725/story.html
---
March 14, 2013 – I am a card carrying Conservative. I do not plan to vote Liberal in the next election. But as a Canadian, I regret that by withdrawing from the Liberal leadership race Canada's first astronaut, MP Marc Garneau has denied Canadians the opportunity to experience the initiative and insight he demonstrated in the mid 1980's, when I was the federal minister in charge of Canada's fledgling space program. Read more.
---
December 21, 2012 – Helping Hand Restores Dignity to a Day Out is a story about how an act of kindness during the festive season made all the difference to my sister Norah and me.
---
July 24, 2011 – Music by the Sea takes place each summer in the beautiful Pacific Rim National Park at Bamfield, BC. The 2011 Music By The Sea program was as breathtaking as its surroundings. Read about this year's festival in my piece, Music By The Sea Moment.
---
July 2, 2011 – How the Celtic Tiger lost its Roar: a piece on the state of the Irish economy that I wrote after a visit with family in Ireland in June 2011. It was published in the Vancouver Sun on July 2, 2011.